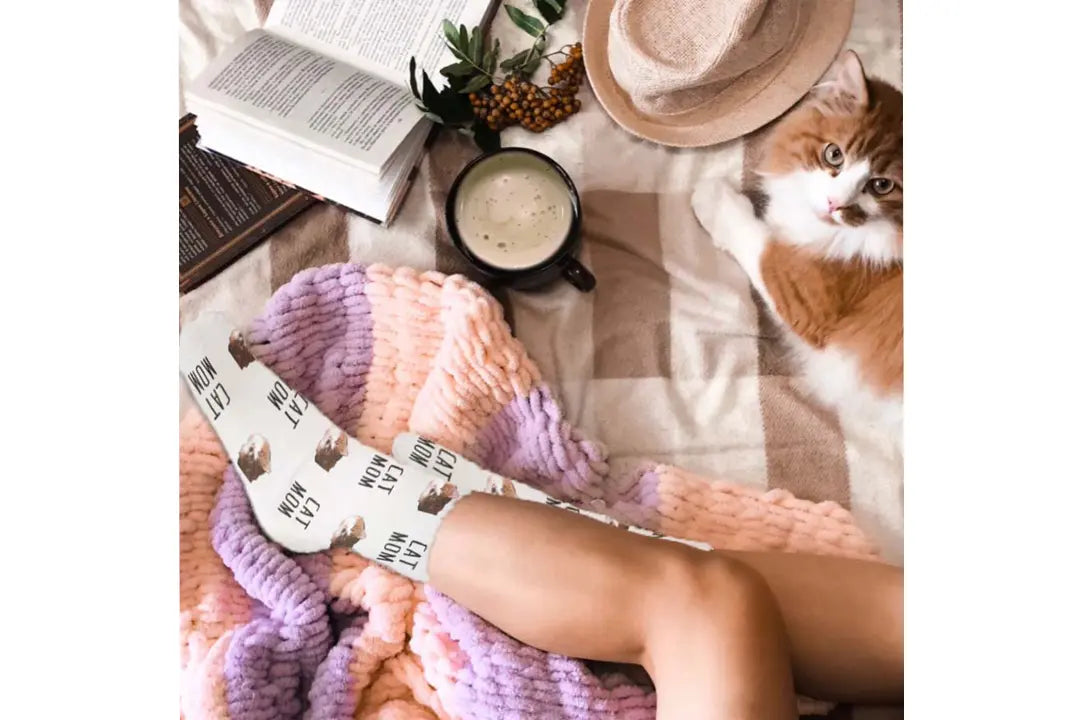 National Cat Day: Why We Love Cats, and How to Show it!
They're cute. They're fun. They're occasionally cuddly. And… they're often moody, spastic, and unpredictable.
And yet, we love them anyway.
They're our cats! 🐱
National Cat Day is right around the corner, and we're here to celebrate our four-legged friends with some cool trivia and even cooler swag. 
Curiosity Won't Kill this Cat: Fun Trivia You Need to Know
Cats are pretty amazing. But as tiny predators that we willingly welcome into our home, and onto our beds, it can be hard to know what is going on behind their cryptic faces. (Don't believe us? We're serious—house cats share over 96% of their genetic makeup with tigers! 🐯)
Here's a few fun facts to help you know what your cat is thinking and better appreciate your feline friend! 
Their purrs are healing.

Studies show that cats purr to help release endorphins, keep muscles working optimally, and promote healing. And, some studies suggest that these healing benefits are not only for the cats. The frequency at which cats purr can boost human mental health, reducing stress and improving state of mind. 😻

They can jump 5Xs their height.

Ever put something "out of reach" of your cat, only to find it knocked onto the floor? (Yes, Whiskers… we know that houseplant's fall was you…). It's probably because you underestimated their ability to jump. While we're talking about amazing physical feats, cats can sprint up to 30 MPH for short distances, too! 🙀

They can remember a face for up to 10 years.

Which means that when your second cousin Mildred comes to visit… or her two year old nephew, and the cat goes darting into another room, it's not stranger danger. It's personal. (Although we don't recommend you tell your houseguests that! 😹)
Showing Your Cat a Little Love
From a scratch under the chin, to the bonding slow-blink, cats know we love them. But let's face it. We want everybody else to know, too. 
For some people, this looks like a dedicated Instagram or TikTok for their cat. (Intrigued? Check out these famous cat Instagram accounts! 😸). But for the rest of us, where just keeping one social media account up to date feels like a lot, there's easier ways. 
Sockprints offers gifts and personalized collections for cat lovers—making it easy to feature your feline through fashion, home décor, or more! And with no minimums, you can create something one-of-a-kind, just like your cat! 
Not sure where to start? Check out some of our favorites!
Feline faces and our best-selling cat face socks!

From his purrr-fect, squishable face to his little white paws and perfect bean toes, putting Sox on socks can help you step out in style, and keep your cat with you wherever you go! 
Cute, custom-printed cat mom canvas bags.

While your office may not be cat-friendly (even if she's an emotional support animal?? 😿), with our custom-printed cat mom totes, your cat can come in-spirit.

Shop now! 
I'm Dreaming of My Cat custom pillowcases. If your cat loves your bed, there's no better homage than a pillow dedicated to him. Create your own custom pillow case or throw pillow to 

feature your homebody housecat as part of your home décor! 
Wishing you and yours a happy National Cat Day!